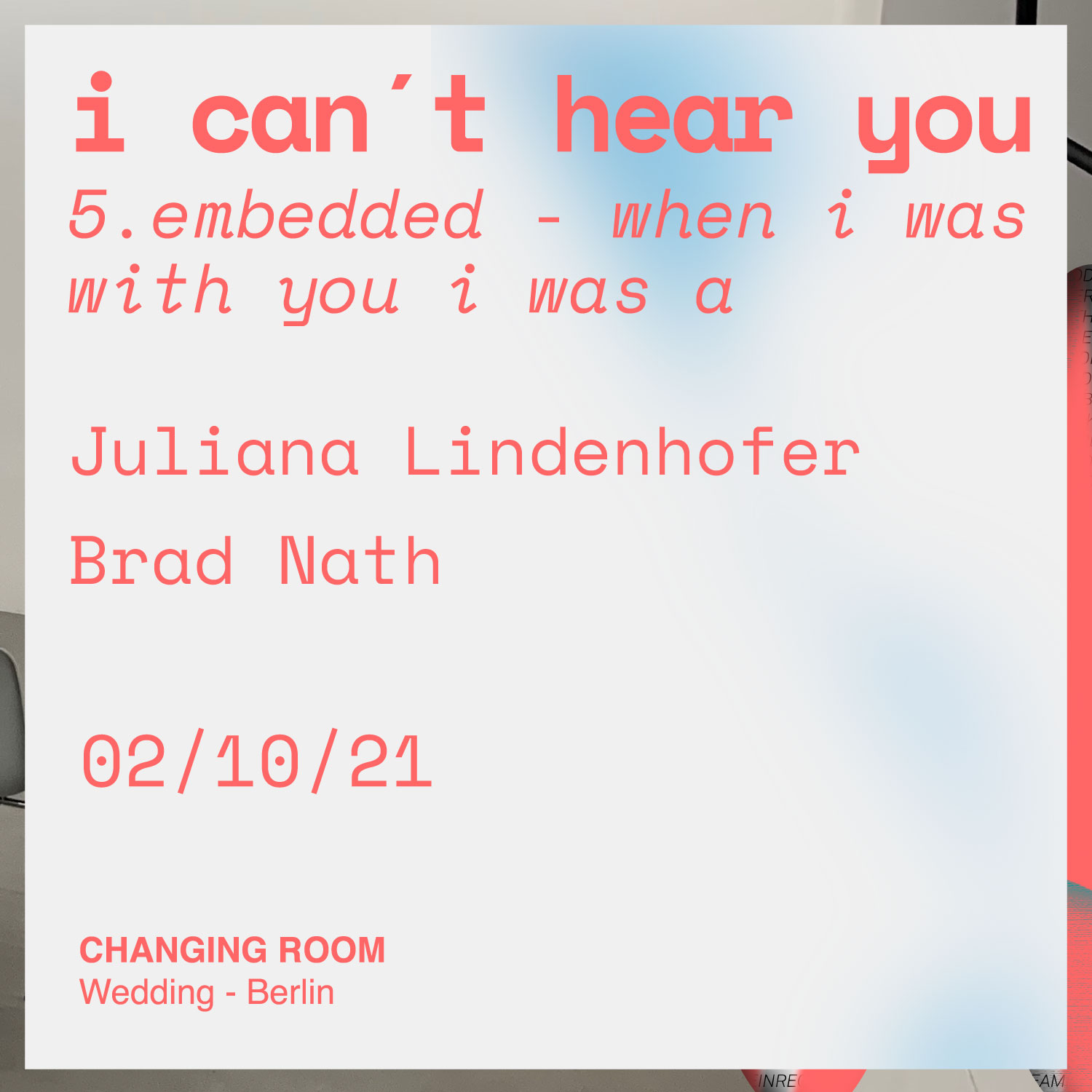 i can't hear you
5. embedded – when i was with you i was a


Brad Nath invites to workshopping the ground through listening to pavement stones:

16:00-18:00 (registered participants only)
(Registrations are closed)
+ ASMR performance (after 19:00, open to all, no registrations needed)

For a couple of hours, slices of the pavement of the Changing Room garden will serve as the grounds for a workshop about feeling grounded (or not) through listening or loosening paving stones (and putting them back in). The workshop will open up ways of thinking about and listening to the ground—standing on sound ground, a sounding ground, the noise floor, etc.—activated through interactions with the paving stones themselves, often a topic of Brad's works. We would be observing, discussing and actively participating in recomposing our relationship formed with the place. Brad is attending to the moving bodies around pavements, of whose elements often he moves with, removes, and sounds.

In the evening, Brad will present a live ASMR performance involving a series of amplified building modules made from various artificial materials.


Juliana Lindenhofer presents sculptures and a DJ set:

19:00 at Changing Room (open to all, no registrations needed)

We will be joining Juliana's protagonists - her sculptures - at Changing Room for a DJ set. The grounds on which Juliana puts together her fluid sculptures, often made out of fabrics and metal casts and color, are thoughts on new anatomies, gender hacking and body deformations - strongly influenced by club aesthetics. The way she is sculpting influences her DJ practice and vice versa. Juliana collaborates with the excesses of nightlife, that she feeds with queer Punk mixes with Voguing samples, apocalyptic computer-game Ambient, cyborgish R'n'B, Techno when she DJs.



We are aware the pandemic is still a risk, so we will take measures to be as safe as possible. Please come with a negative Corona test result or proof of vaccination / COVID recovery. The nearest test center from our venue is located at Brüsseler Str. 8, 13353 Berlin. When indoors, everyone needs to wear a mask. When moving around outside, you also need a mask, unless you are within appropriate distance from others.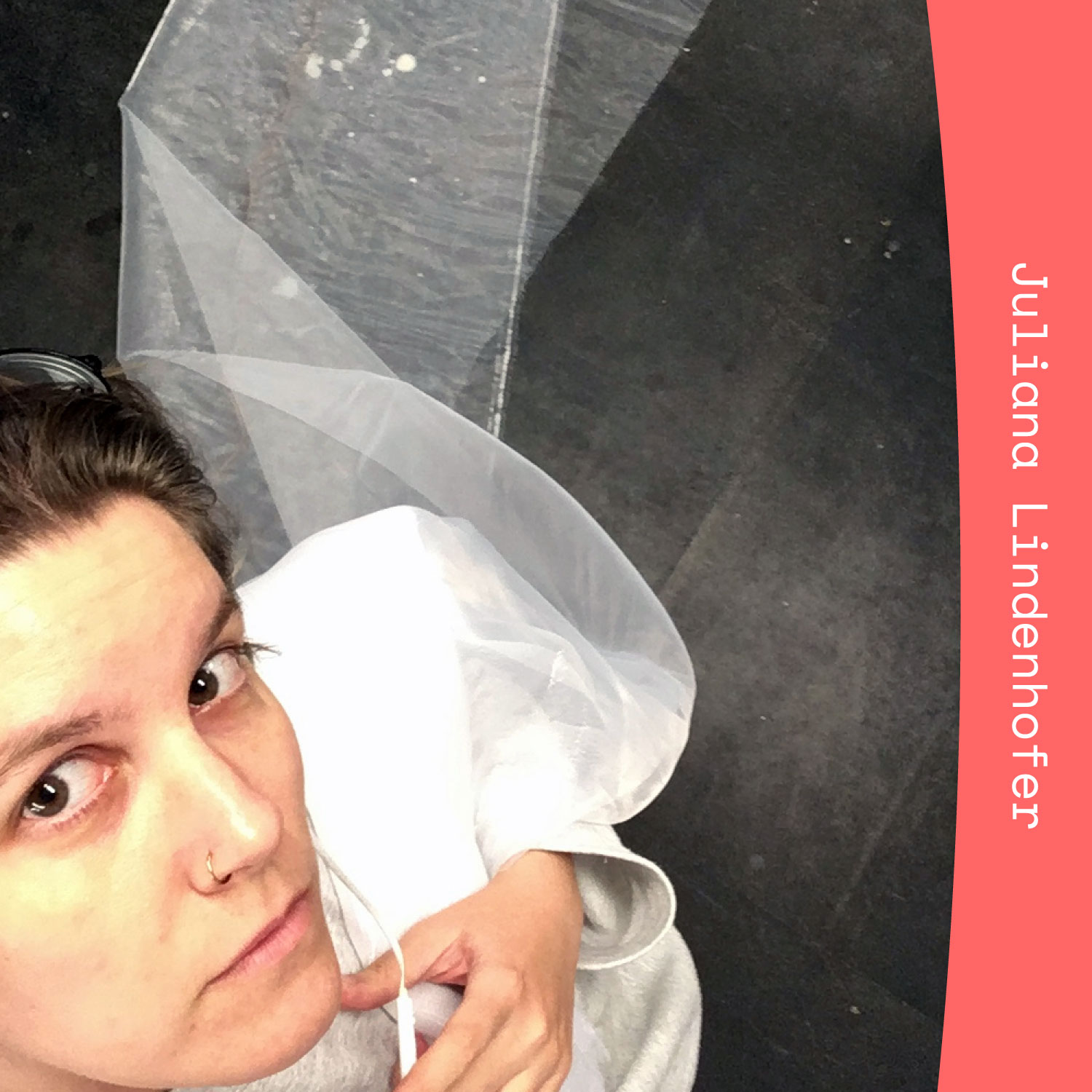 Juliana Lindenhofer studies performative arts and sculpture at the Academy of Fine Arts Vienna with Prof. Monica Bonvicini and Prof. Iman Issa. From 2016-2017 she co-founded and co-curated the club series Clinic in Vienna. In 2019 she was awarded with the Salzburg International Summer Academy of Fine Arts Grant for the class of Ei Arakawa and Sarah Chow. In 2020 she was awarded with the ASA Programme scholarship (Hamburg) and was a finalist for the Ö1 Talent Grant for visual arts.
Recent exhibitions and performances include Leopold Museum (Vienna, Austria), WAF (Vienna, Austria), Wiener Festwochen – Hyperreality (Vienna, Austria), Künstlerhaus Graz (Graz, Austria), Belvedere 21 (Vienna, Austria), Festung Hohensalzburg (Salzburg, Austria), Raum für drastische Maßnahmen (Berlin, Germany), school (Vienna, Austria), Unsafe and Sounds Festival (Vienna, Austria).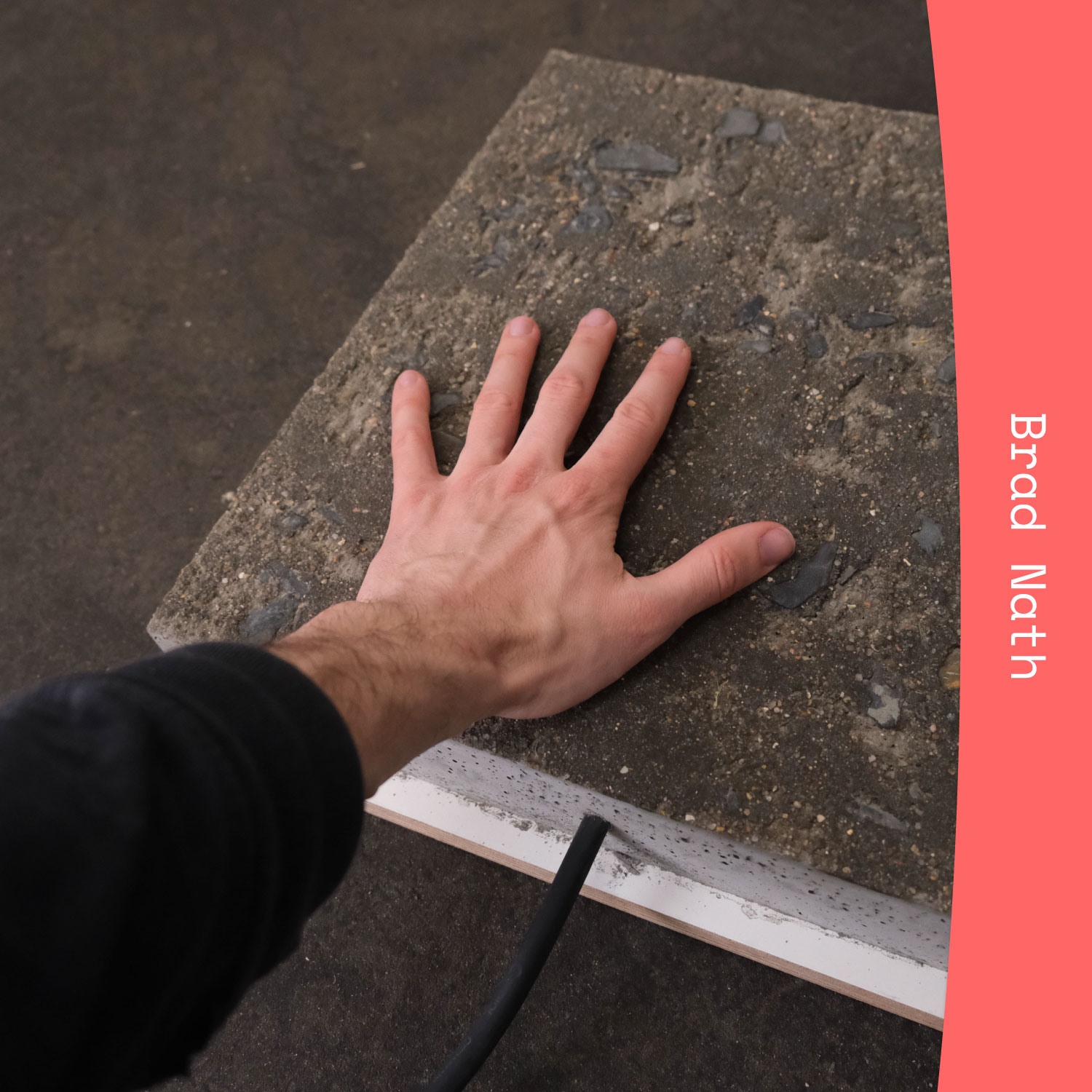 Brad Nath is developing space-making techniques through material/body-based research, live performances, installations, music, workshops, and ASMR. After finishing architecture school in 2018 he moved from New York to Berlin, where his attempt to reposition the role of the architect developed into an artistic practice. Often his process begins with the act of listening to and amplifying building modules for what their vibrations might expose about their production of infrastructural, intimate, and social realities. Brad Nath has presented his work or been in residence at ZK/U Center for Arts and Urbanistics (Berlin, 2021), Neurotitan Gallery (Berlin, 2021), the "Parking Ist Bewegung" Festival (Berlin, 2021), Callie's (Berlin, 2021), the B-Part Gallery (Berlin, 2021), the Amplify residency at ACUD (Berlin, 2020), and the Latvian National Museum of Art (Riga, 2019). He is currently enrolled in the MA SODA program at HZT Uferstudios, where he is researching how the commons reveals itself through the sidewalk.
Accessibility

We are aware the pandemic is still a risk, so we will take measures to be as safe as possible. Please come with a negative Corona test result (or vaccination or COVID recovery). Nearest test center from our venue Brüsseler Str. 8, 13353 Berlin. When indoors, everyone needs to wear a mask. When moving around outside, you also need a mask, unless you are within appropriate distance from others.

Changing Room is approx. 250 m from the U6 Bahnhof and S-Bahn Seestrasse. There is no elevator from this platform to the sidewalk. If you need an Elevator you need to leave the U-bahn at the stop U6 Leopoldplatz (One stop before Seestrasse when coming from Mitte) The venue is only accessible by wheelchair on the ground floor platform. From there the space is visible and Performances can be viewed. For the main area 4 deep steps need to be taken. The toilet is gender-neutral. The space is such that there are big windows that open to a large public outdoor area, so the indoor spaces are well ventilated. Chairs with backs are available. If you have needs that we can help accommodate to ensure your participation in this event, please send us an email to: studio.tef@gmail.com Contact: Tatiana Echeverri Fernandez
i can't hear you is supported by: